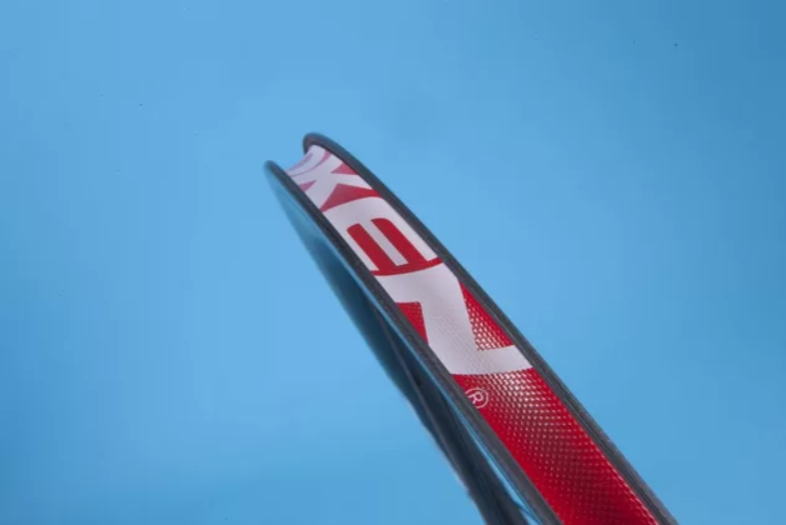 Cycling Weekly C45R wheelset Review
Token C45R wheelset By Hannah Bussey
There is absolutely no doubt carbon wheels make any bike look immediately badass no matter how much you spend on them. The question is, are they just fit for posing or do they also perform out on the road once you've finished Instagramming them?
The Token C45 R wheelset is by no means the exception to the rule when it comes to looks: the 44mm machine-made full-carbon rims are very easy on the eye. Coming in at a penny less than £800 for the wheelset (front and rear) I was expecting them to be pretty hefty, but at 1,588g (872g rear and 716g front) they impressively weigh only 98g more than the highly-rated Mavic Cosmic Pro Carbon SL UST – and you get an extra 4mm of rim depth to boot.
They're also 106g lighter than a pair of Mavic Ksyrim wheels. As carbon clincher wheels, the final weight will depend on your own tube and tyre set-up, with the not particularly slimline pairing of Continental Grand Sport tyres and standard inner tubesbringing the total weight to 2,440g.
Construction
Made using its own Conti-Fibre carbon, Token says this is a method that uses a continuous carbon-fibre rim manufacturing process allowing the wheels to be light and strong. Rather than shying away from the fact that the Token C45 R wheelset is machine built, Token celebrates this as it believes it does away with human error.
One of the biggest issues with rim lay-up is how it dissipates heat on the braking track. The temperature at which an epoxy resin turns from a hard glassy material to a soft rubbery one – the glass transition temperature (Tg) – is, I would say, the most important element of any carbon wheel. Token says that it uses a high Tg epoxy resin which will withstand high braking temperatures and, when combined with its own brake pads, ensure that heat dissipates quickly.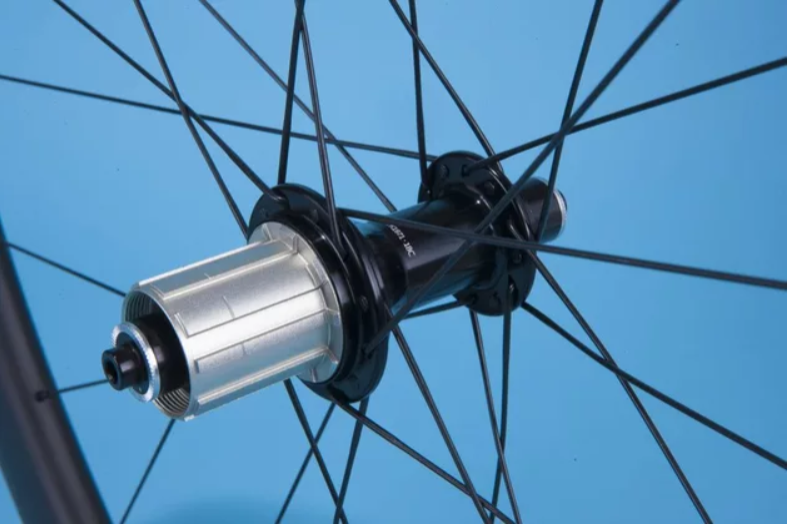 The other notable feature of the Token C45 R rims is their width, Token measures them at 26mm externally and 18.2 internally, and they took a 25mm Continental Grand Sport tyre up to 26.02mm on the front and 27.56 at the rear with just 100psi in them.
Token calls this its 'Swiftedge' design, which should not only offer all the perks of fatter tyres such as lower rolling resistance and comfort, but also provides a smooth transition between tyre and rim – which, in theory, will deliver a slight additional aero advantage.
Elsewhere, you'll find the company's proprietary Arsenal Q hub with Token's high-carbon steel bearings. Token believes these premium bearings provide a higher standard than average steel bearings, running smoother for longer and being suited to all-condition rides.
As a lover of practicality, I was pleased to see a set of bike shop-friendly Aero J-bends used. The front wheel is radial while the rear wheel gets what Token calls a diametric lacing pattern – radially on the non-drive side and centred between two triple-crossed spokes on the driveside. Token say this pattern provides the most strength for fewer spokes.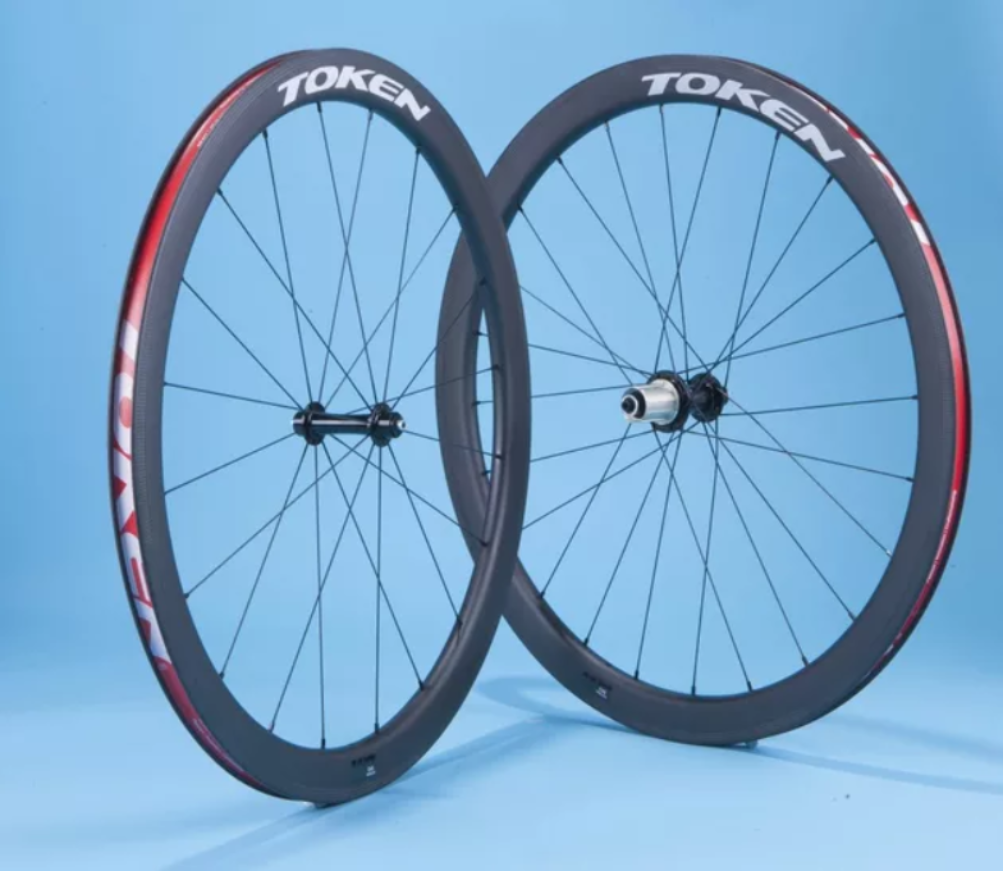 Token C45 R wheelset: ride
With the wheels dissected, it was time to head out on a pair. First ride impressions were, er, impressive.
As mentioned above, the rim design makes for a plump tyre pairing and in order to even get the wheels in my bike I had to fully let my brake cable though and have the brake calipers wide open, and that was with 20psi in my tyres below the maximum inflation. But what a lovely ride they delivered.
I somehow managed to choose a lumpy loop which included over 550 metres of climbing in less than 30km and even when out of the saddle I couldn't feel my 58kg weight flex the Token C45 R wheels in the slightest. Taking Token's marketing at face value I decided to take the wheels on a rather scenic route, which included a rather broken old Roman road and they didn't skip a beat, with my skill and the tyre grip letting me down well before the wheels did.
Despite riding on a dry day, any precipitation on carbon rims makes me apprehensive. Even the thought of riding down winding dry stone wall-clad steep decents with treacherous farm gate splash features is enough to give me palpitations. So I was more than happy that not only did I make several totally intact, without fear of brakes letting go, but also with a wide grin on my face meaning I was more than totally in control of the Token C45 R wheels' stopping power. I can honestly say that there was no significant difference between the stopping performance of these and my baseline Mavic Ksyrium wheels.
I had assumed that the pay-off for a good stopping surface would be naff climbing, but it turns out you can have your cake and eat it, as looking back over the ride data revealed that I some how managed a handful of top 10s and even a 6th place on Strava. OK so these aren't quite up to the 19 PRs and podium spot that the ridiculously fast Zipp 454 NSW wheels delivered, but for less than a quarter of the price they are obscenely good value.
I even ensured it wasn't just my weight and style of riding that made these wheels excel and did a wheel (and brake pad) swap with a 72kg riding buddy, who again rode them on a warm sunny day, but also declared them a cracking ride after deflating his tyres down 20psi from the maximum 120psi, which was far too harsh.
Value
I was pretty dubious about such a relatively cheap carbon wheelset. I honestly thought that they would be the cycling equivalent of a pair of 'dinner shoes', in that they would look mighty fine with an outfit but in reality you can only just about walk in a straight line, have to slow down for corners (trust me on that one – have you ever tried to walk in high heels?) so wearing them to dinner is pretty much all they are fit for. But the Token C45 R wheelset is far from just bike candy: it will definitely upgrade your ride and is well worth the price tag.